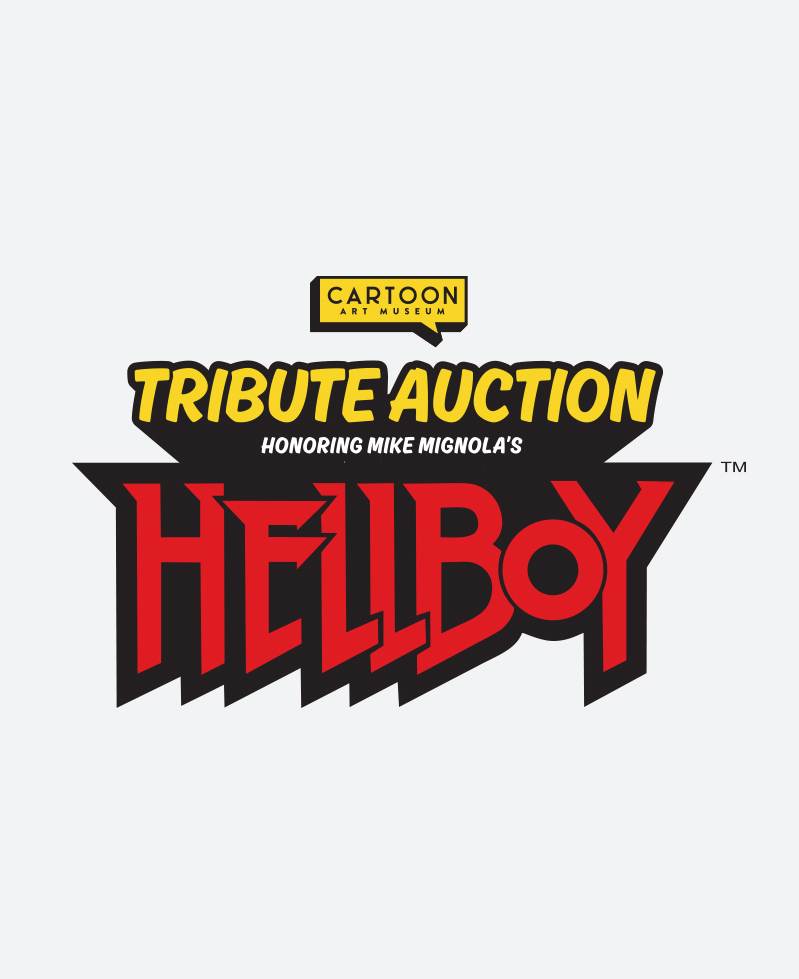 The Cartoon Art Museum is thrilled to announce its first themed original art fundraising auction, Mike Mignola's Hellboy: A Tribute. Proceeds from the auction will support the Cartoon Art Museum's operations and public programming as the board and staff prepare for CAM's grand reopening at 781 Beach Street in San Francisco later this summer.
Since Mike Mignola's Hellboy first hit the stands in 1993, it has become a cultural sensation, racking up a dozen Eisner Awards and inspiring numerous spinoffs, from a novel line, to video games, to feature films. The Cartoon Art Museum's fundraising auction, Mike Mignola's Hellboy: A Tribute will feature original artwork from dozens of top graphic novelists, animators, and cartoonists who have drawn inspiration from the master storyteller's signature creation. Featured artists include Daniel Warren Johnson (Extremity), James Harren (Rumble), Harry Bliss (The New Yorker), Jeffrey Brown (Darth Vader and Son), Nick Dragotta (East of West), Sam Kieth (Sandman, The Maxx), Patrick McDonnell (Mutts), Steve Purcell (Sam and Max), Kent Williams (The Fountain), and more to be announced.
The online auction will take place on eBay commencing Monday, May 15th and continuing weekly throughout the summer. We'll keep adding more images here as they come in. The Cartoon Art Museum will publish a full color catalog collecting all of the artwork created for this auction, as well as an exhibition featuring this artwork alongside a selection of Mike Mignola's own Hellboy pages tentatively planned for display at the Cartoon Art Museum in fall 2017.
CARTOON ART MUSEUM's Gallery Rooms
Most Recent Additions (Last Update: 7/6/2017)
There are no

pieces. View all pieces added in the last 30 days.