Comic Art News: The Jon Berk Original Art & Comic Collection Auction Preview
Mr. Jon Berk is known and respected throughout the comicbook community as not only one of the most knowledgeable collectors and historians around, but also one of the true class acts in the hobby. A true gentleman and steward of the medium, Jon spent nearly a lifetime amassing one of the most impressive collections in the world of vintage comics and art. ComicConnect is proud to present The Jon Berk Collection Auction Preview for your viewing pleasure at Metropolis Gallery.
The opening will be on Saturday, March 11th 7pm-10pm with complimentary hors d'oeuvres and beverages at Metropolis Gallery, 36 W 37th St., 6th Floor, New York, NY 10018. After the opening, the gallery will be open to the public Tues–Fri, 11:00am – 5:00pm until June 2nd.
"The original Cover art to Planet Comics #1 by Lou Fine, Pep Comics #30 by Bob Montana and All New Comics #8 by Alex Schomburg will blow your mind away" stated ComicConnect COO Vincent Zurzolo. In addition to the wondrous collection of original art, visitors to the auction preview gallery will also find copies of Action Comics #1, Detective Comics #27, Captain America Comics #1, Fantastic Comics #3 Church Copy, Motion Picture Funnies Weekly #1, Fawcett Flash Comics #1, and dozens more.
Items will be available for bidding starting May 15th at noon. For more information on the auction or other questions email ComicConnect at support@comicconnect.com.
Click here to view art for sale at Metropolis Gallery.
To view the gallery by appointment, call Vincent Zurzolo at 212-260-4147 or 1-800-229-6387.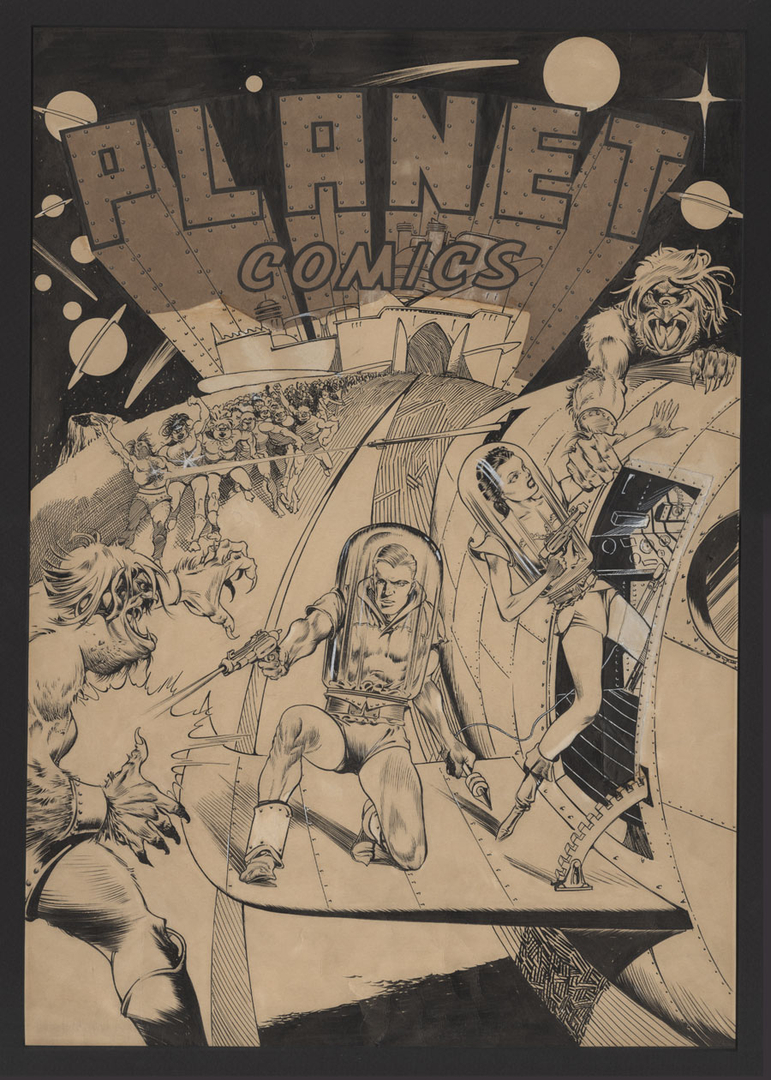 Recent Comic Art News

| | |
| --- | --- |
| | 9.19.2017: Closing Today: ComicLink Featured Auction Original Art Session with Outstanding Highlights--Art By Frazetta, Kirby, Wrightson, Romita and other Renowned Artists |
| | 9.19.2017: Tim Lane show @Scott Eder Gallery |
| | 9.18.2017: Comic Art Meetup at Illustration House during NYCC October 4th |
| | 9.17.2017: Splash Page Comic Art Update |
| | 9.17.2017: Felix Comic Art DANIEL WARREN JOHNSON / STEPHEN GREEN commission lists and NYCC news |
| | 9.17.2017: scotteder.com update BASTIAN syd mead EYVIND EARLE wrightson MANOUKI |
| | 9.14.2017: TD Art Gallery - Erica Lyn Schmidt Kickstarter Art Book and Original Art Giveaway! |
| | 9.14.2017: Scotteder.com Updates: Mead, Bastian, Earle, Moebius, Columbia, Wrightson |
| | 9.14.2017: ComicConArt - NYCC 2017 Pre-Con Commissions - New Additions! |
| | 9.11.2017: ComicConnect Original Comic Art Covers, Splashes, Pages in Event Auction XXXII – Ends Tonight |
| | 9.10.2017: KochComicArt.com: New BWS Art For Sale |
| | 9.9.2017: Art4Sale Update |
| | 9.8.2017: Albertmoy.com: Comic Art Con 9/9/17 |
| | 9.8.2017: Tri-State Original Art Site Update |
| | 9.8.2017: VIRTUAL COMIC-CON Art Update at Romitaman.com |
| | 9.7.2017: ComicConnect's Original Art Auction Ends Monday, September 11 |
| | 9.6.2017: Mitch Itkowitz/Graphic Collectibles at NJ Comic Art Con |
| | 9.6.2017: Comic Art Con Saturday |
| | 9.6.2017: Felix Comic Art Rose City Comic Con 2017 info and New podcast up |
| | 9.5.2017: Happy Birthday Jack! ComicConnect's Original Art Auction Ends Monday |

What's Hot @ Comicartfans?

Would you like to know what comic artwork is getting viewed the most by other Comic Art Collectors? If so, use this Search feature to see what's hot on CAF today!