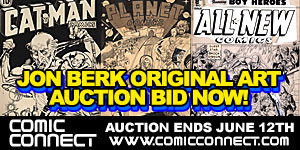 The Jon Berk Original Art & Comicbook Collection, with some of the rarest and most-valuable art to ever come on the market. is causing an absolute frenzy in the comic art community. Mr. Berk's selection of Golden and Silver Age art contains an embarrassment of treasures that are already garnering vast amounts of attention in ComicConnect's auction.
While there are many pieces that will spark bidding wars due to their obvious pop-cultural importance, Berk's collection also offers many pieces that will appeal to the discerning collector with an eye for the sleeper hits of this amazing auction. Of note are the masterfully rendered recreations of Golden Age covers, many by artists of the era, as well as classic art from the Harry A. Chesler collection, and many more rarities from the early days of comics.
Original art collectors and investors will find:
All New Comics #8 cover by Alex Schomburg
All Star Comics #14 page by Howard Sherman
Amazing Spider-Man #6 Lizard page by Steve Ditko
Captain America Comics #9 page by Jack Kirby
Captain Battle #3 cover by Gus Ricca
Catman Comics #25 cover by Rudy Palais
Crack Comics #18 cover by Gill Fox
Daredevil #1 page by Bill Everett
Fantastic Four #3 page by Jack Kirby
Incredible Hulk #4 page by Jack Kirby
Marvel Mystery #15 cover recreated by Alex Schomburg
Mary Marvel Comics #5 cover by Jack Binder
Pep Comics #30 cover by Bob Montana
Planet Comics #1 cover by Lou Fine
Police Comics #9 cover by Gill Fox
Sgt. Fury and His Howling Commandos #2 page by Jack Kirby
Speed Comics #22 cover by Joe Simon
Tales of Suspense #64 splash by Don Heck
Wonderworld #10 page by Lou Fine
X-Men #2 page by Jack Kirby
The auction ends June 12, 2017 at 7 PM EDT.